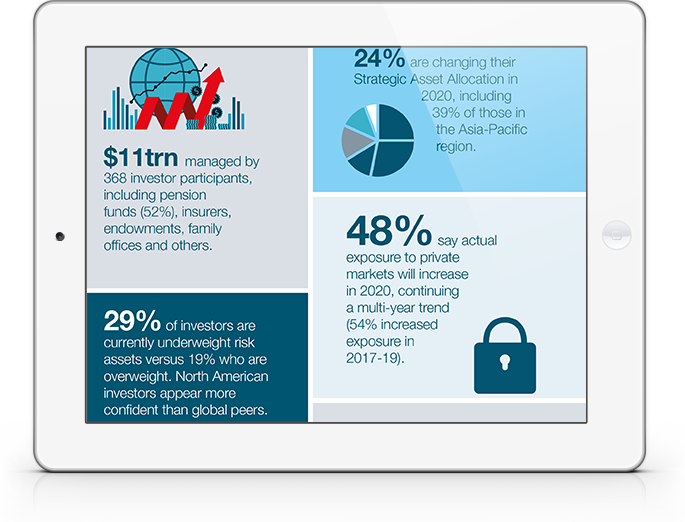 IN THIS PAPER
2020: the story so far. Investors report widespread satisfaction with portfolio performance, risk management and (most!) actively managed strategies relative to appropriate benchmarks. More than half are likely to terminate external asset managers based primarily on their 2020 results.
Pandemic: obstacles and opportunities. Investors are more likely to be underweight risk assets than overweight, but most are not taking a tactical view and uncertainty prevails with a wide range of macro predictions. The focus is on opportunistic strategies and finding ways of conducting 'business as usual' in a virtual working environment, while ESG looks set to become even more important.
Portfolio evolution. 2020 will see investors' exposures to private markets increasing, continuing the pre-COVID trend, while sovereign debt exposures are cut back. However, only a quarter are changing their long-term Strategic Asset Allocation this year.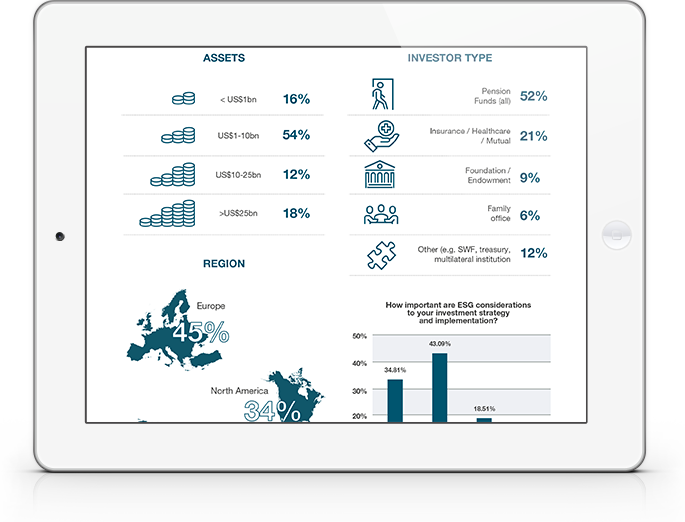 WHY DOWNLOAD?
2020 is not yet hindsight. Yet this period will be crucially informative as investors adapt portfolios and prepare for an uncertain future as the global pandemic develops into what may well be an epoch-defining economic crisis.
In this study investors share: what have we learned so far about our portfolios, our external asset managers, our risk management frameworks and our diversification models? How are we handling the obstacles presented by the current crisis, as well as seizing the opportunities that it may create?
The respondents represent pension schemes (52%), insurers, endowments, foundations, family offices, sovereign wealth funds and other entities. The results paint a picture of cautious optimism and a community seeking to take advantage of opportunities amid a challenging environment.
---
Important Notices
This commentary is for institutional investors classified as Professional Clients as per FCA handbook rules COBS 3.5R. It does not constitute investment research, a financial promotion or a recommendation of any instrument, strategy or provider. The accuracy of information obtained from third parties has not been independently verified. Opinions not guarantees: the findings and opinions expressed herein are the intellectual property of bfinance and are subject to change; they are not intended to convey any guarantees as to the future performance of the investment products, asset classes, or capital markets discussed. The value of investments can go down as well as up.
---