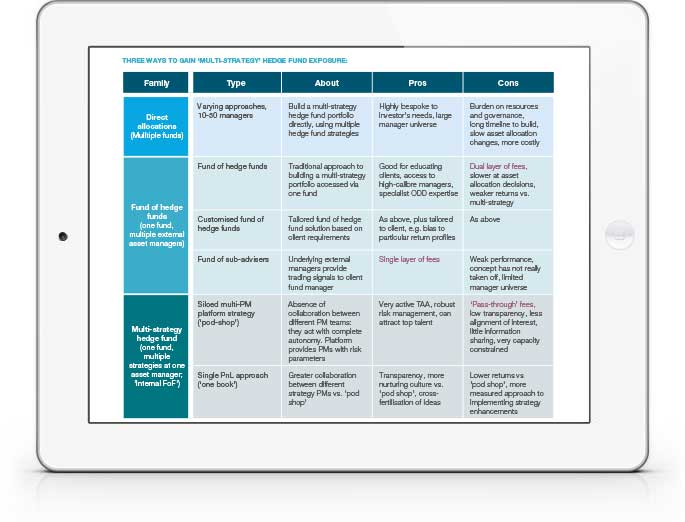 IN THIS PAPER
Facts and figures: Practical information on the multi-strategy hedge fund universe including the number of managers identifying as 'multi-strategy hedge funds', performance and more.
Understanding the asset class: Clear explanation of what multi-strategy hedge funds are, the characteristics of the strategies and the pros and cons of using them.
Market access: Insight into the three primary methods used to gain multi-strategy hedge fund exposure, and a breakdown of the key facts to consider when assessing implementation.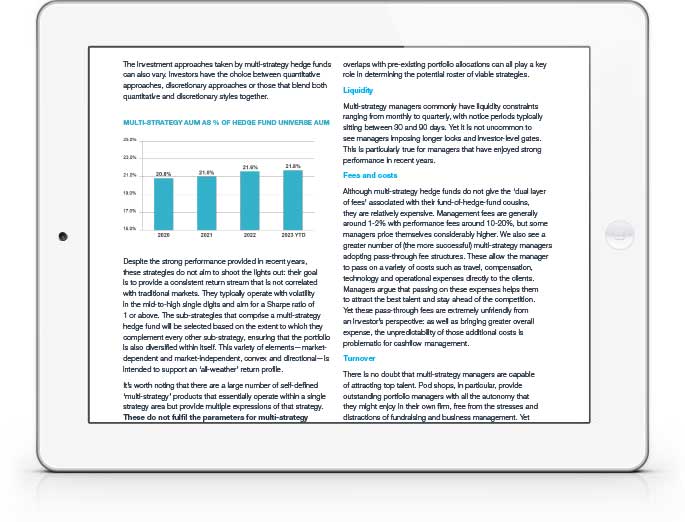 WHY DOWNLOAD?
Multi-strategy hedge funds offer investors diversified exposures without the resource burden involved in single manager allocations or the visible dual layer of fees associated with fund of hedge funds, and they have recently boomed in popularity following recent strong performance of certain high-profile names. With this in mind, we wanted to revisit this complex strategy and offer investors a deeper insight into the multi-strategy hedge fund universe.
This concise report provides an introductory overview of multi-strategy hedge funds and relevant strategies that investors may consider, with their potential advantages and disadvantages.
The paper is part of our educational 'Sector in Brief' series, intended to support investors that seek a rapid overview of an asset class or strategy type, with a market summary followed by investment and manager research considerations.
---
Important Notices
This commentary is for institutional investors classified as Professional Clients as per FCA handbook rules COBS 3.5R. It does not constitute investment research, a financial promotion or a recommendation of any instrument, strategy or provider. The accuracy of information obtained from third parties has not been independently verified. Opinions not guarantees: the findings and opinions expressed herein are the intellectual property of bfinance and are subject to change; they are not intended to convey any guarantees as to the future performance of the investment products, asset classes, or capital markets discussed. The value of investments can go down as well as up.
---