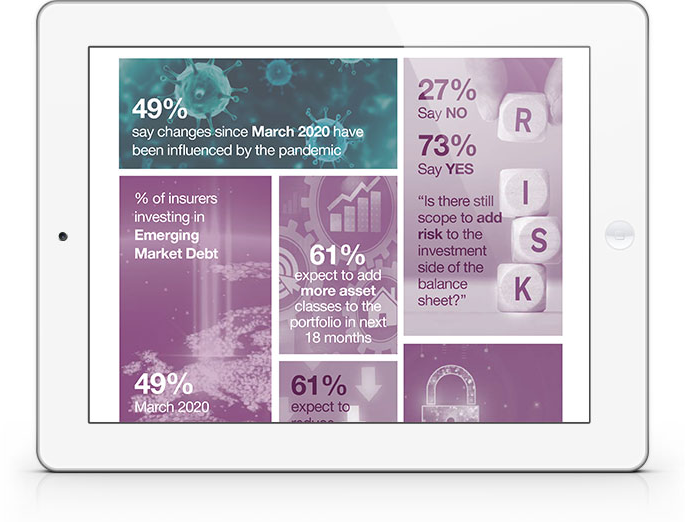 IN THIS PAPER
Data from 90 insurers around the globe, with assets in excess of US$5 trillion.
Major shifts in investment and risk exposures: 61% plan to add new asset classes to the portfolio in next 18 months; 74% expect to increase portfolio illiquidity; recent trends show influence of the pandemic.
Challenges for resourcing and governance: A significant minority of insurers point to poor alignment of interest between investment and risk teams/senior management; investment teams grow in size and sophistication; assets shift towards external asset managers amid rising complexity.
Dramatic ESG overhaul: There's been a 120% rise in the proportion of insurers integrating ESG into the investment process since the pandemic began (32% to 71%); 40% of insurers are planning to introduce Net Zero goals for the investment portfolio (24% already have them in place).
Detailed segmentation by insurer size, region and type reveals P&C insurers catching up with Life on portfolio diversification and US insurers gaining ground on ESG themes.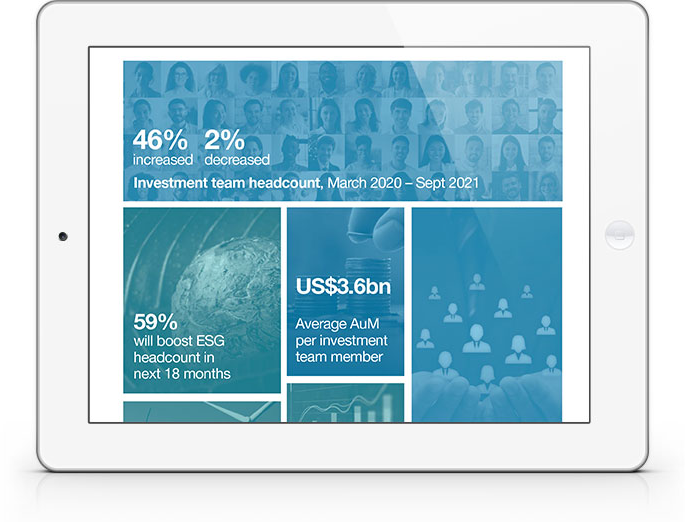 WHY DOWNLOAD?
Since the onset of the COVID-19 pandemic, there have been major shifts in insurers' investment profiles, risk exposures and ESG practices.
Firms have been innovating to improve investment outcomes against a challenging macroeconomic backdrop. In doing so, they have grappled with internal and external forces which influence how risk can be assessed, how solvency must be calculated, how investment outcomes are prioritised alongside other business objectives, and the resources that are available to meet the task.
In this study, we examine key trends and benchmarks supported by data from nearly 90 insurers in 20 countries, with combined investment portfolios valued in excess of US$ 5 trillion.
---
Important Notices
This commentary is for institutional investors classified as Professional Clients as per FCA handbook rules COBS 3.5R. It does not constitute investment research, a financial promotion or a recommendation of any instrument, strategy or provider. The accuracy of information obtained from third parties has not been independently verified. Opinions not guarantees: the findings and opinions expressed herein are the intellectual property of bfinance and are subject to change; they are not intended to convey any guarantees as to the future performance of the investment products, asset classes, or capital markets discussed. The value of investments can go down as well as up.
---