bfinance insight from:


Kathryn Saklatvala
Senior Director, Head of Investment Content
With a clear trend towards impact-oriented investment activity among bfinance's global client base, the bfinance research team recently held an investor training seminar focusing on illiquid strategies: Impact Investing in Private Markets.
Presenters discussed key developments within a selection of asset classes, notable findings from recent manager analysis, changing client priorities – such as a shift of focus towards biodiversity – and road maps towards Net Zero. The full one-hour session is available to view here, featuring Sarita Gosrani (Director, ESG), Peter Hobbs (Managing Director, Private Markets) and two senior specialists from the Private Markets team: Anna Morrison and Anish Butani.
Five highlights from the webinar
1. INVESTOR DEMAND FOR IMPACTFUL ILLIQUID STRATEGIES HAS SURGED
The point might be a familiar one, but Gosrani revealed a selection of recent manager searches to illustrate the breadth and depth of current investor activity in impact-oriented private market strategies. From pension funds and endowments to insurers and family offices, investors are examining a wide variety of diversified and niche investment opportunities with impact in mind.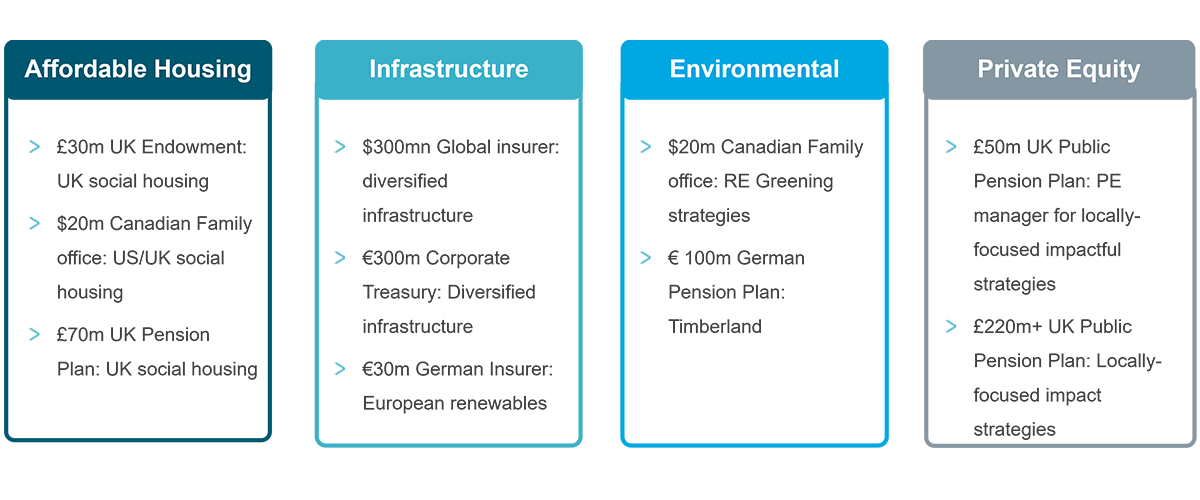 2: IMPACT INVESTING REQUIRES CLEAR DEFINITION
Before examining specific sectors in more depth, the panel took a step back to review definitions and developments. Gosrani emphasised the five key characteristics that underpin an impact investment. However, she emphasised how investors interpret these points in different ways, and that these five characteristics may manifest very differently depending on the specific asset class or sub-strategy in question.

3: 'IMPACT' STRATEGIES ARE PROLIFERATING RAPIDLY
Although impact-minded investors should not necessarily focus solely on strategies with an explicit impact label, Morrison cited data to show that more than 1200 such funds have been launched during the last five years – including over 200 in private equity. (Read Impact in Private Equity: Sector in Brief). A substantial proportion of these strategies are not yet suitable for institutional investors seeking to deploy sizeable amounts of capital, but investors should keep a sharp eye on the evolving product landscape.
4. TIMBERLAND IS IN FOCUS FOR CARBON CAPTURE AND BIODIVERSITY
Hobbs discussed the current investment opportunities in Timberland, with prominent impact dimensions relating to carbon capture and biodiversity. Different types of timberland generate very different carbon footprints, ranging from afforestation to natural timberland management or REDD+. "Not all timberland strategies are impactful," he notes. It is also crucial to consider the bigger picture, including land rights and workers' rights, relating to timberland management in developed or emerging economies. This chart visualised recent analysis of global timberland funds.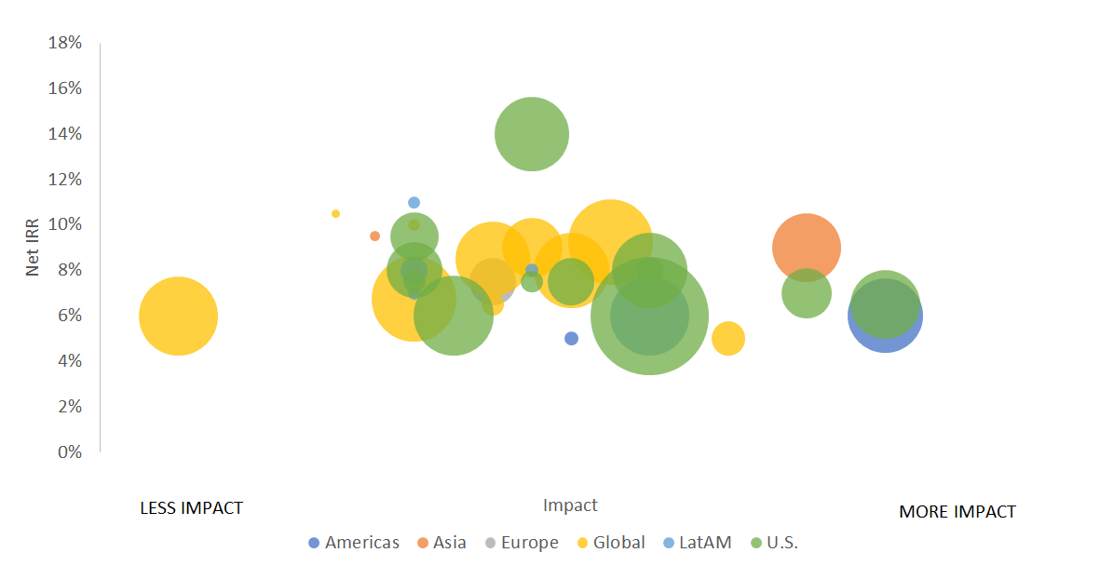 5. IN SOCIAL HOUSING, IMPACT IS IN THE EYE OF THE INVESTOR
Investors take different views on impact – a topic which Hobbs illustrated neatly using the example of Social Housing with the table shown below. Some investors view the categories at the top of the table as being less impactful than those at the bottom, but others take a different view, arguing that investments in those strata take pressure off the overall housing stock, which can in turn benefit more vulnerable groups.

"We are really excited by the innovation and the products that are becoming available," said Gosrani, drawing the session to a close. "We hope that investors are encouraged to consider how to create long-term value while funding solutions to some of the biggest sustainability challenges that we face."
To watch the webinar in full, click here.
---
Important Notices
This commentary is for institutional investors classified as Professional Clients as per FCA handbook rules COBS 3.5R. It does not constitute investment research, a financial promotion or a recommendation of any instrument, strategy or provider. The accuracy of information obtained from third parties has not been independently verified. Opinions not guarantees: the findings and opinions expressed herein are the intellectual property of bfinance and are subject to change; they are not intended to convey any guarantees as to the future performance of the investment products, asset classes, or capital markets discussed. The value of investments can go down as well as up.
---