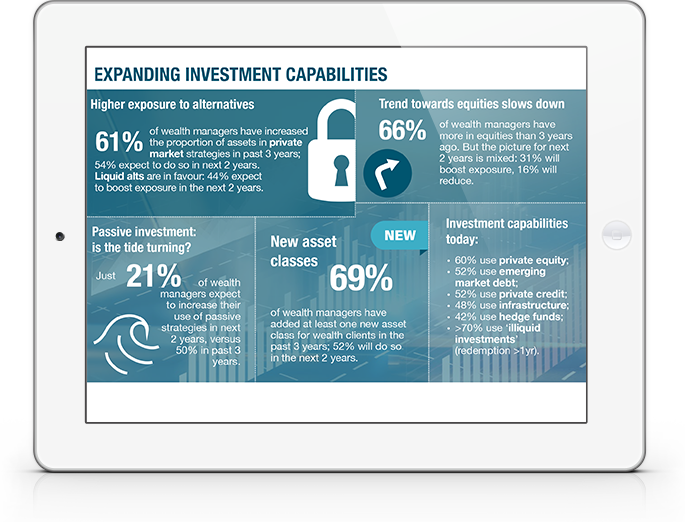 IN THIS PAPER
Expanding investment capabilities, with growing allocations to alternative investments and coverage of an increasingly diverse range of asset classes proving to be a bastion against the broad fee squeeze taking place in the industry. Meanwhile, the much-discussed shift towards passive investing may have hit its limit: only 20% are now planning to increase exposure to passive strategies for wealth clients.
A major shift towards ESG and impact investing, with 80% of wealth managers now offering ESG strategies—typically for a minority of client assets. Clear strategic differentiation is emerging between those who ultimately envisage a separate ESG product suite for particular clients and those who expect broad integration of ESG factors across the full strategy line-up.
New technologies: 7% have introduced new technologies for wealth clients within the last three years and 90% are planning imminent new developments, primarily around the SMAC stack. Can evolving interfaces and capabilities bridge the gap between the hunt for scale and the need for greater personalisation?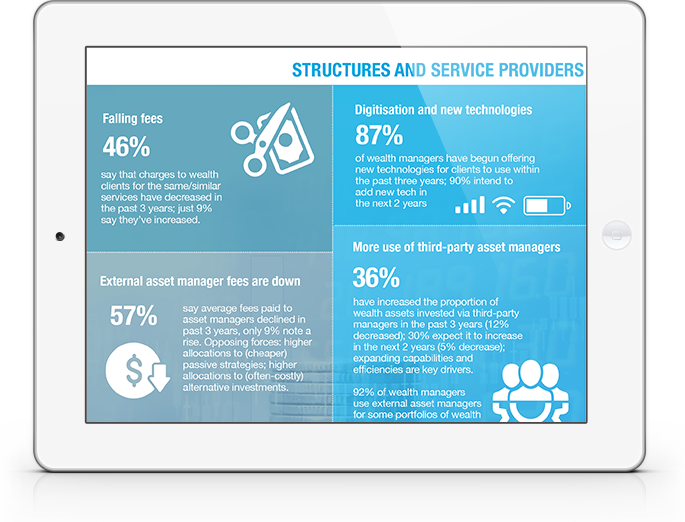 WHY DOWNLOAD?
In an era of transformative change for the wealth management industry, how are investment capabilities evolving to keep pace with client demands and business imperatives? Today, high net worth individuals (HNWI) control more assets than pension funds and ownership is trending in favour of emerging markets, women and Millennials/Generation Z. Wealth clients are increasingly expecting asset management services that are digitally sophisticated, 'sustainable' and 'goal-led', while also providing access to a broad range of asset classes for investment diversification and better returns.
Yet what do these shifts actually mean for the evolution of wealth managers' investment capabilities, products and teams? In June and July 2021, bfinance surveyed 120 wealth managers around the globe, spanning different sizes and specialties, to shed light on key investment and strategic developments. We hope that this report primarily proves helpful to wealth managers and to the service providers who seek to support them, including the broader asset management industry.
---
Important Notices
This commentary is for institutional investors classified as Professional Clients as per FCA handbook rules COBS 3.5R. It does not constitute investment research, a financial promotion or a recommendation of any instrument, strategy or provider. The accuracy of information obtained from third parties has not been independently verified. Opinions not guarantees: the findings and opinions expressed herein are the intellectual property of bfinance and are subject to change; they are not intended to convey any guarantees as to the future performance of the investment products, asset classes, or capital markets discussed. The value of investments can go down as well as up.
---