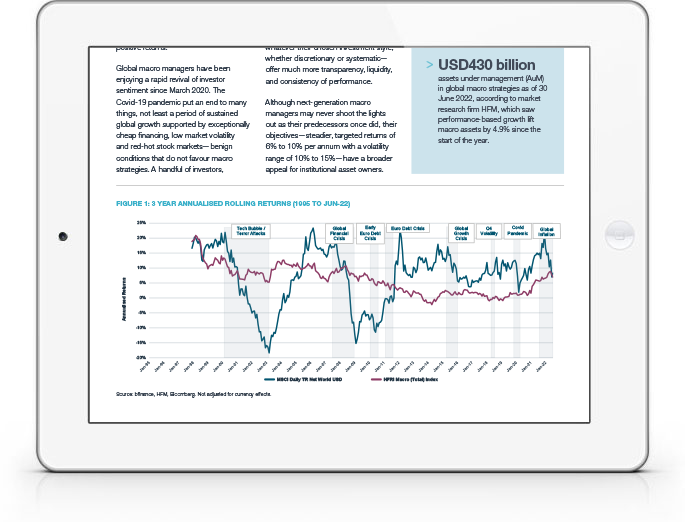 IN THIS PAPER
What's new? Global macro managers have been enjoying a revival of investor sentiment since March 2020. Today's global macro strategies look quite different from their predecessors as the sector has evolved to appeal to an institutional audience: they are less likely to 'shoot the lights out' but offer more transparency, liquidity and consistency.
Strategy types: Few areas of the asset management universe are as hard to define as global macro. During the past decade, two distinct categories of global macro have evolved: 'discretionary' and 'systematic'.
Manager selection: Global macro returns are lumpy, contributing to high dispersion in manager returns. Manager selectors should be able to differentiate between the relevant drivers of return and identify managers' true areas of expertise (as well as the conditions to which their strategies are better-suited).
WHY DOWNLOAD?
As a group, hedge fund managers delivered mediocre performance during the 2022 H1 downturn. Yet one cohort—global macro managers—reasserted their strength amid volatile, difficult-to-predict markets. Amid inflationary pressures, macroeconomic risks and market losses, managers that occupy the oldest strategy in the hedge fund playbook delivered convexity in the form of strong positive returns.
The Covid-19 pandemic put an end to many things, not least a period of sustained global growth supported by exceptionally cheap financing, low market volatility and red-hot stock markets—benign conditions that did not favour macro strategies. As such, these managers have been enjoying a rapid revival of investor sentiment since March 2020.
This concise report provides an introductory overview to global macro strategies, reviews their results and considers key issues to address during manager selection.
---
Important Notices
This commentary is for institutional investors classified as Professional Clients as per FCA handbook rules COBS 3.5R. It does not constitute investment research, a financial promotion or a recommendation of any instrument, strategy or provider. The accuracy of information obtained from third parties has not been independently verified. Opinions not guarantees: the findings and opinions expressed herein are the intellectual property of bfinance and are subject to change; they are not intended to convey any guarantees as to the future performance of the investment products, asset classes, or capital markets discussed. The value of investments can go down as well as up.
---