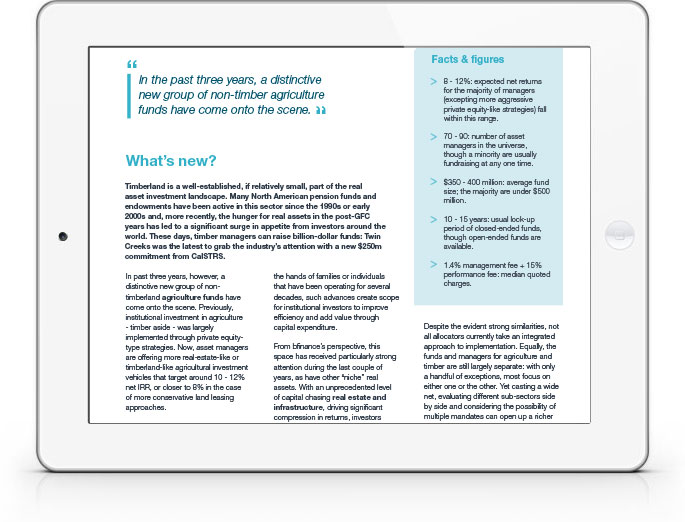 IN THIS PAPER
Facts and figures: Useful data on agriculture and timberland strategies across the risk/return spectrum including expected net returns (cash yield versus growth), managers, average fund sizes, fees, lock-ups, geographies and more.
Sub-sector insight: An explanatory overview of different investment styles, ranging from various types of leasing strategy to ownership/operation and, at the more aggressive end of the spectrum, agribusiness private equity.
Investment challenge: Assessing risk is a notable challenge in this asset class: non-traditional risks feature strongly and proprietary risk scores for funds prove to be weakly correlated with strategy type. We estimate that there are now between 70 and 90 managers in this sector (depending on definitions), although fewer than half may be looking for funding at any one time.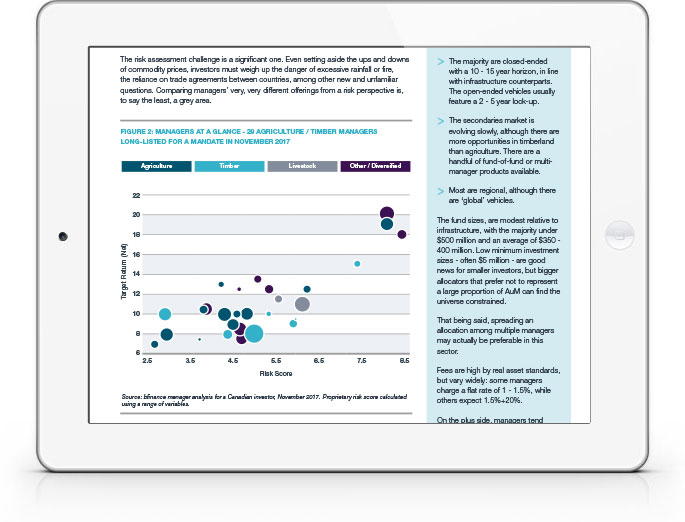 WHY DOWNLOAD?
Agriculture and timberland strategies have, along with other "niche" real assets, received strong attention during the last couple of years.
With an unprecedented amount of capital chasing real estate and infrastructure, driving significant compression in returns, investors have looked towards less familiar and more capital-constrained parts of the landscape.
While timberland is a relatively well established (though small) sector, the past three years have seen the rise of a new breed of agriculture funds. Previously, institutional investment in agriculture – timber aside – was largely implemented through private equity-type strategies. Now, asset managers are offering more real-estate-like or timberland-like vehicles that target 10-12% net IRR, or closer to 8% in the case of more conservative land leasing approaches.
Today, investors seeking what we might term 'natural resources real assets' exposure are increasingly examining agriculture and timberland side by side. Casting the net wide, evaluating different sub-sectors and considering the possibility of multiple mandates can open up a richer opportunity set.
---
Important Notices
This commentary is for institutional investors classified as Professional Clients as per FCA handbook rules COBS 3.5R. It does not constitute investment research, a financial promotion or a recommendation of any instrument, strategy or provider. The accuracy of information obtained from third parties has not been independently verified. Opinions not guarantees: the findings and opinions expressed herein are the intellectual property of bfinance and are subject to change; they are not intended to convey any guarantees as to the future performance of the investment products, asset classes, or capital markets discussed. The value of investments can go down as well as up.
---