IN THIS PAPER
Investor appetite: new research evidences strong appetite from pension funds and other asset owners, while the roster of fund managers continues to grow and develop (65 strategies fundraising at the latest count). Oil and gas supermajors are also bidding for assets, adding further pricing pressure.
Strategies and risk drivers: expected returns, particularly for conventional technologies in developed markets, are declining but managers have evolved in order to remain attractive, pulling on a range of different risk levers to boost outcomes. Investors should scrutinise development risk, merchant power price risk and volume risk, and keep a close eye on alignment of interest.
Practitioner case studies: what does the changing landscape mean for asset owners seeking to deploy capital in this space? Today's challenges and opportunities are illustrated through searches conducted for two very different investors: one Asian pension plan seeking a global strategy, one European insurer looking to add further European renewables exposure.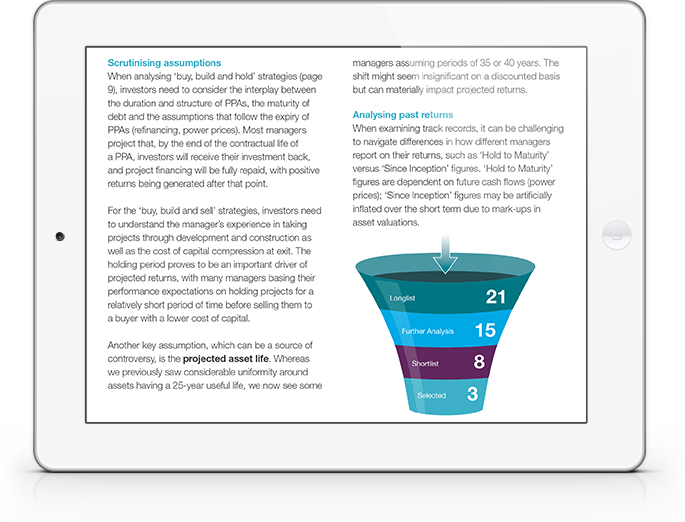 WHY DOWNLOAD?
Ushered into existence by government subsidies and guarantees, the renewable energy infrastructure sector has grown into a diverse, global and highly competitive asset class. Asset managers' strategies have evolved rapidly, with substantial changes taking place since bfinance last published commentary on the sector in 2019 (Investing in Renewables). Since then, broad trends towards more development and construction risk, newer technologies, alternative geographies and greater specialisation have continued.
The Covid-19 era has thrown a spotlight on the extent to which renewable energy infrastructure assets are now vulnerable to power price risk. Furthermore, an unprecedented fall in demand for electricity during the pandemic, coupled with high levels of renewable energy generation, offered us a glimpse into a future where renewables accounted for a larger share of overall electricity generation. Although cleaner and greener, a renewables-heavy system is harder to manage, highlighting grid stability issues and the investment opportunities associated with addressing them.
---
Important Notices
This commentary is for institutional investors classified as Professional Clients as per FCA handbook rules COBS 3.5R. It does not constitute investment research, a financial promotion or a recommendation of any instrument, strategy or provider. The accuracy of information obtained from third parties has not been independently verified. Opinions not guarantees: the findings and opinions expressed herein are the intellectual property of bfinance and are subject to change; they are not intended to convey any guarantees as to the future performance of the investment products, asset classes, or capital markets discussed. The value of investments can go down as well as up.
---