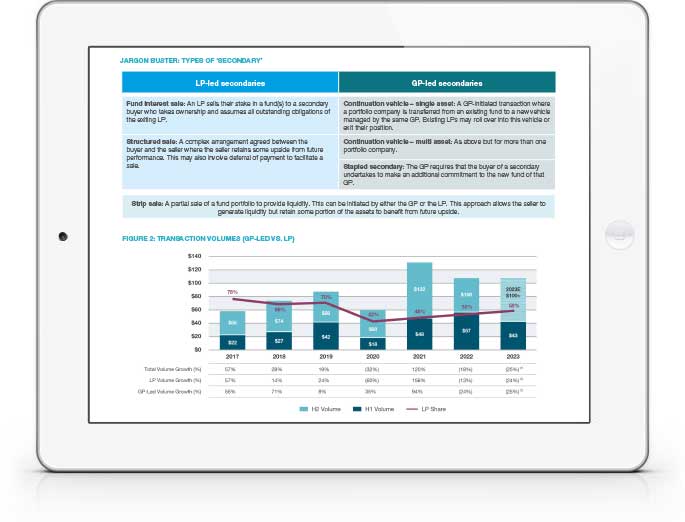 IN THIS PAPER
Understanding PE secondaries: Six categories of secondary investment, attractions/risks and the evolving balance of LP-led vs. GP-led deal-flow.
Market update: Insights on pricing, leverage and performance with key facts and figures. The recent substantial decline in pricing has been followed by a reasonable recovery but the market remains undercapitalised.
Asset managers and funds: A closer look at the funds offering exposure to private equity secondaries, from Fund of Funds (where this segment is playing an increasingly important role) to generalist secondaries funds and a rising group of thematic funds.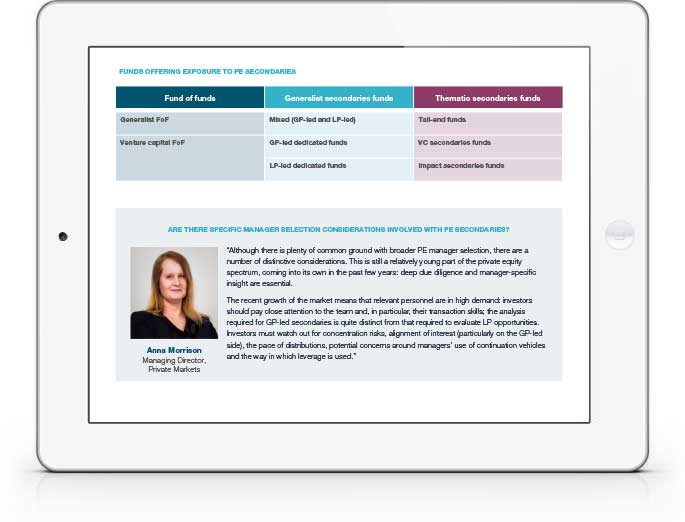 WHY DOWNLOAD?
Volatility has paved the way for interesting developments in the private equity secondaries market. Pricing fell to historically attractive levels (for buyers) in H2 2022 and, despite a recovery in 2023, remains relatively low. Reinforcing the 'buyer's market' dynamic, we are now anticipating a notable rise in LP sellers.
Meanwhile, the secondaries market has continued to mature in terms of structure and depth, with new types of vehicle and investment fund targeting the sector. Traditional and alternatives-focused managers have taken steps to build capabilities or even acquire specialist firms. The war for talent continues to heat up.
This brief research note—part of our educational 'sector in brief series—is intended to provide a concise, investor-oriented overview of the market and fund/strategy universe.
---
Important Notices
This commentary is for institutional investors classified as Professional Clients as per FCA handbook rules COBS 3.5R. It does not constitute investment research, a financial promotion or a recommendation of any instrument, strategy or provider. The accuracy of information obtained from third parties has not been independently verified. Opinions not guarantees: the findings and opinions expressed herein are the intellectual property of bfinance and are subject to change; they are not intended to convey any guarantees as to the future performance of the investment products, asset classes, or capital markets discussed. The value of investments can go down as well as up.
---