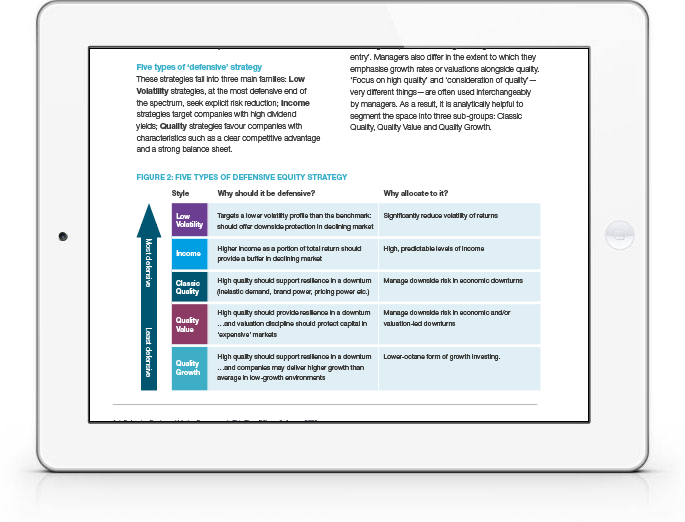 IN THIS PAPER
What are defensive equity strategies? Part 1, 'Defining defensive equity strategies', breaks the universe into five distinct categories: Low Volatility, Income, Classic Quality, Quality Value and Quality Growth. All claim to offer resilience, but achieve that resilience in different ways – and with very different results. What are the key attributes of each strategy type and how has the manager universe evolved?
What are the main biases within these portfolios? Part 2, 'Looking inside defensive portfolios', scrutinises style leanings, sector exposures, regional tilts and carbon intensity. Five proprietary manager composites—representing the five strategy types— allow key differences to surface.
How have they performed? A variety of risk and return lenses are in focus in Part 3, including beta, volatility, upside and downside capture, long-term excess returns and excess returns during periods of market decline. With some investors digesting recent disappointment, is it reasonable to expect these strategies to perform in all downturns?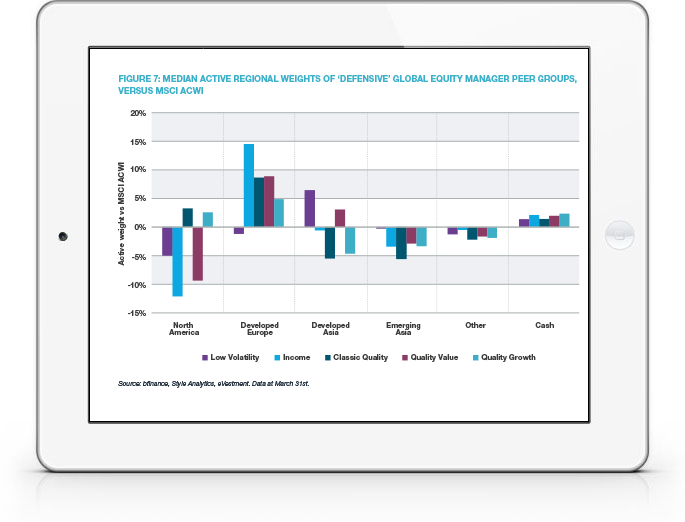 WHY DOWNLOAD?
With heightened geopolitical tensions, non-transitory inflation and central banks trying to engineer a soft economic landing, 'defensive' equity strategies have come to the fore.
Recent stock market movements are provoking closer scrutiny of characteristics such as volatility reduction, downside protection and style/sector exposures. In some cases, this scrutiny is the result of disappointment, with the underperformance of Quality strategies in 2022 providing a recent notable example.
There are many different ways to think about and structure equity allocations that include one or more defensive strategy components. This paper aims to provide clarity on the various defensive strategy options and highlight key issues that investors should consider when including them in portfolios.
---
Important Notices
This commentary is for institutional investors classified as Professional Clients as per FCA handbook rules COBS 3.5R. It does not constitute investment research, a financial promotion or a recommendation of any instrument, strategy or provider. The accuracy of information obtained from third parties has not been independently verified. Opinions not guarantees: the findings and opinions expressed herein are the intellectual property of bfinance and are subject to change; they are not intended to convey any guarantees as to the future performance of the investment products, asset classes, or capital markets discussed. The value of investments can go down as well as up.
---