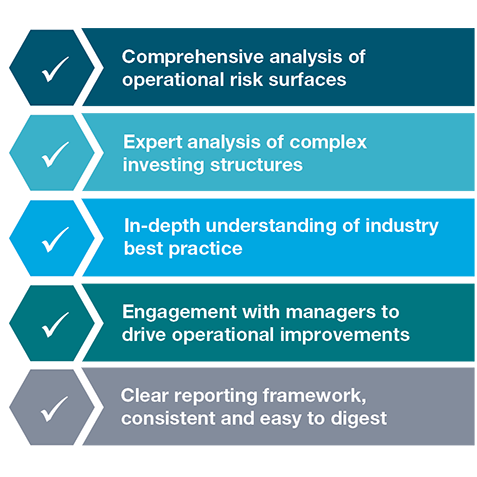 Targeted operational risk services
bfinance's ORS function provides extensive support with operational risk management across all public and private market asset classes.
Flexible services are designed to work around investors' different needs. We assist clients with ad hoc Operational Due Diligence (ODD) during manager selection, either on a standalone basis or as part of broader Investment Manager Due Diligence. In addition, the team provides operational risk assessments and monitoring over the longer term: this can (if preferred) be part of a broader Portfolio Monitoring programme.
In all cases, a rigorous approach to operational due diligence provides in-depth assessments of managers' policies, procedures and resources across key control functions.
Analysis is supported by the use of bespoke due diligence questionnaires, tailored to address clients' needs. Reports clearly present the information that is most pertinent to you. And, where possible, the team works proactively with managers to resolve areas of weakness by introducing operational improvements.
Supporting investment manager due diligence
Institutional investors are more focused than ever on operational due diligence as part of manager selection. Indeed, many are now receiving prescriptive guidance from regulators on the need to conduct thorough assessments of asset managers' operational processes and controls.
Meanwhile, the challenges are evolving. Regulation, fund structures and financial instruments continue to become more complex.
Cyber risks are changing rapidly. Asset managers are using larger networks of third-party providers. The shift towards 'working from home' has created new threats. Private market and alternative strategies – a growing proportion of investors' portfolios – bring greater exposure to uncompensated risks; global regulators are requiring greater transparency from firms which had historically been subject to fewer disclosure requirements. Meanwhile, mandatory ESG disclosures raise new questions.
Latest case studies
The investor, a German public pension scheme, was conducting a search for a global private equity...
The investor, a Dutch corporate pension scheme, was seeking outside support to review the...
---
Latest insights from the team
Recent testimonials
What our clients say
01
We can highly recommend this service to other professionals in manager selection. We were very impressed with the process. The extensive documentation in the final report also provides assurance to the fund's board.
02
Through bfinance we have accessed investors that we would not otherwise be in contact with. We found their due diligence extremely thorough and they demonstrated a strong understanding of our strategies.
03
Because bfinance is involved in so many searches, they've accumulated a very useful universe and are willing to share a lot of intelligence and information with us.
Key issues to address during ODD include:
We believe that investors should perform a comprehensive ODD assessment on all investments, irrespective of manager size or strategy focus. While the nature and scope of an ODD exercise will vary dependent on the target manager and their strategy, similar risks and issues exist across the board. The table below shows a (non-comprehensive) overview of the main points that should be addressed in an ODD review.
Control function
Areas of focus
Control function
Areas of focus
Organisational structure
Corporate structure
Ownership Assets under management
Governance framework
Key committees
Pre-employment screening
Regulation, audit and compliance
Regulatory relationships
Compliance framework
Policies and procedures
Employee education
Internal audit
Internal control reporting
Trading/transactions
Trade execution
Pre-trade compliance
Best execution
Order allocation
Trade errors
Risk management
Investment risk
Operational risk
Counterparty oversight
Prime brokers and ISDA relationships
Collateral management
Middle office, back office and valuation
Trade settlement and reconciliation
Valuation methodology
Shadow accounting
NAV confirmation
Cash controls
Cyber security and business continuity
Penetration testing
Security awareness training
Phishing simulations
Multi-factor authentication
Business continuity planning
Meet the team
Portfolio solutions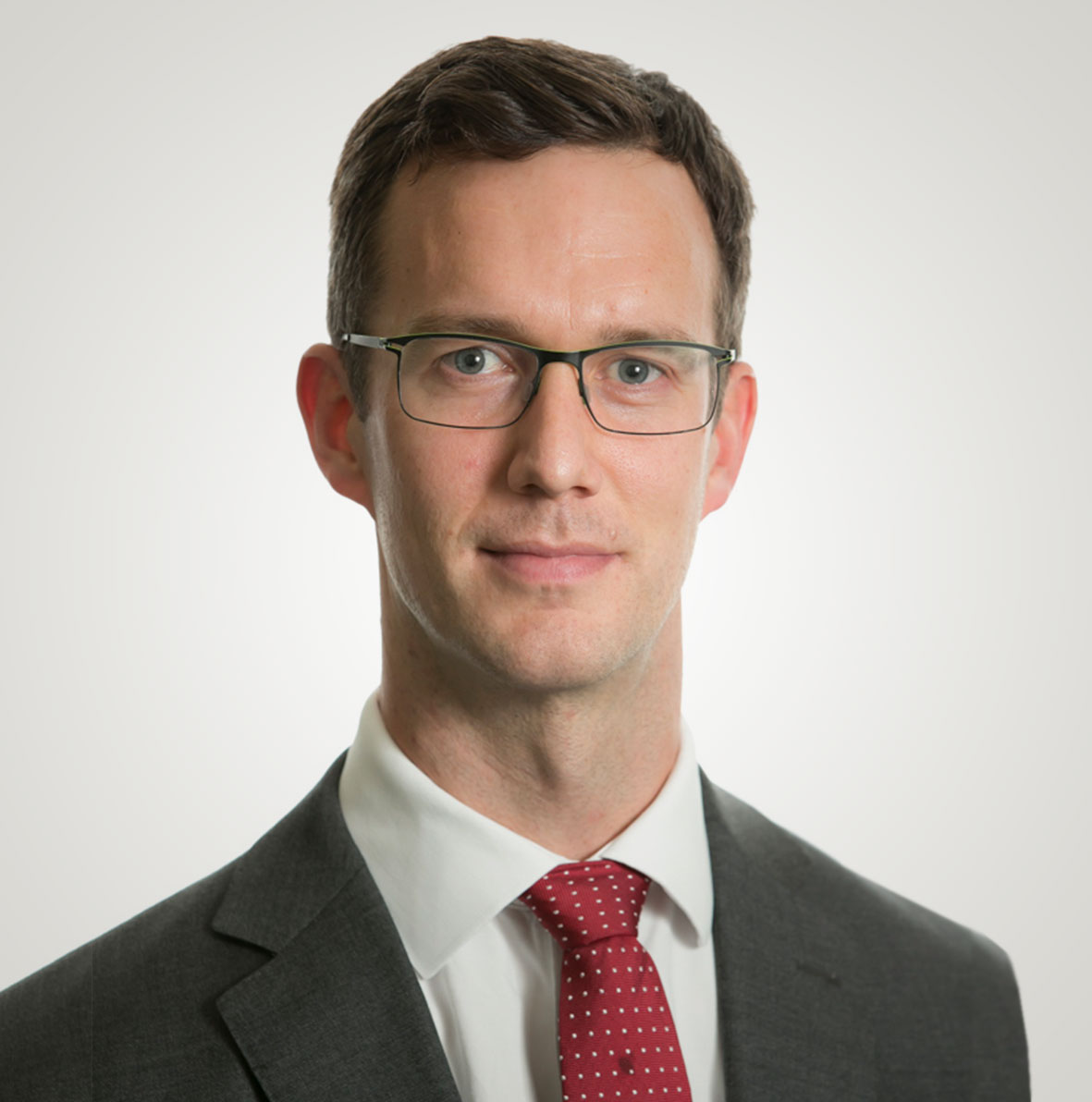 Managing Director, Head of Portfolio Solutions
Senior Director, Operational Risk Solutions