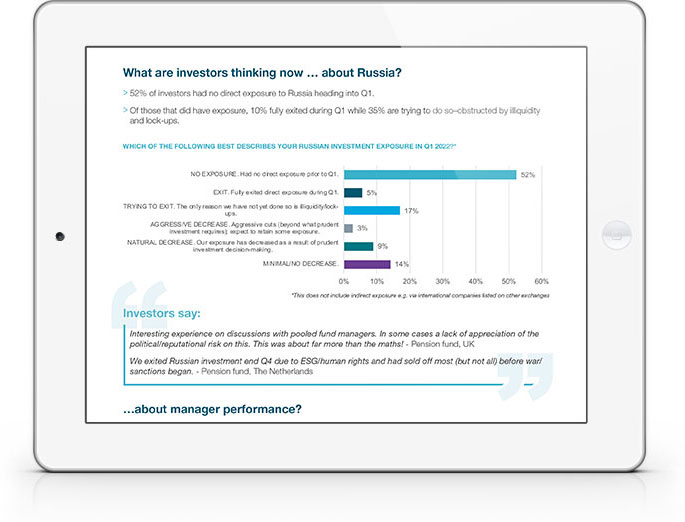 IN THIS PAPER
Nearly half of investors had direct exposure to Russia heading into Q1. Of those, 45% have either fully exited or are trying to do so, with the majority of leavers obstructed by illiquidity and lock-ups.
Some 39% of investors said recent geopolitical developments will lead (or have already led) to a re-evaluation of ESG approach.
Four in five investors expressed concern that inflation and rising rates would impair their ability to achieve medium-term investment objectives (14% "very concerned" 68% "moderately concerned"); 41% expect to increase the inflation sensitivity of their portfolio in 2022. Illiquid investment allocations are surging, with real assets leading the way.
Alternative Risk Premia and Hedge Fund managers delivered high satisfaction ratings in a turbulent first quarter, while many Emerging Market Debt and Emerging Market Equity managers disappointed.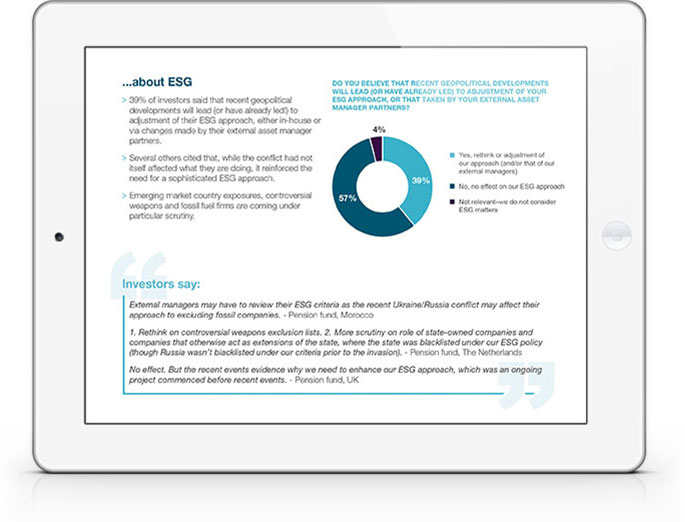 WHY DOWNLOAD?
Following a dramatic and sobering first quarter of 2022, many institutional investors are grappling with macroeconomic shifts, geopolitical developments and market declines. In an effort to provide additional clarity on the views of the investor community at this challenging time, bfinance ran a 'snap poll' between 29 March and 4 April for pension funds, insurers, endowments, foundations, family offices, wealth managers and others. Some 418 investors from 39 countries shared their insights, including 162 pension funds and 82 insurers, endowments, family offices, sovereign wealth funds (SWF), wealth managers and others. This brief report presents a high-level overview of results, made available to respondents within a few days of the survey's close.
---
Important Notices
This commentary is for institutional investors classified as Professional Clients as per FCA handbook rules COBS 3.5R. It does not constitute investment research, a financial promotion or a recommendation of any instrument, strategy or provider. The accuracy of information obtained from third parties has not been independently verified. Opinions not guarantees: the findings and opinions expressed herein are the intellectual property of bfinance and are subject to change; they are not intended to convey any guarantees as to the future performance of the investment products, asset classes, or capital markets discussed. The value of investments can go down as well as up.
---