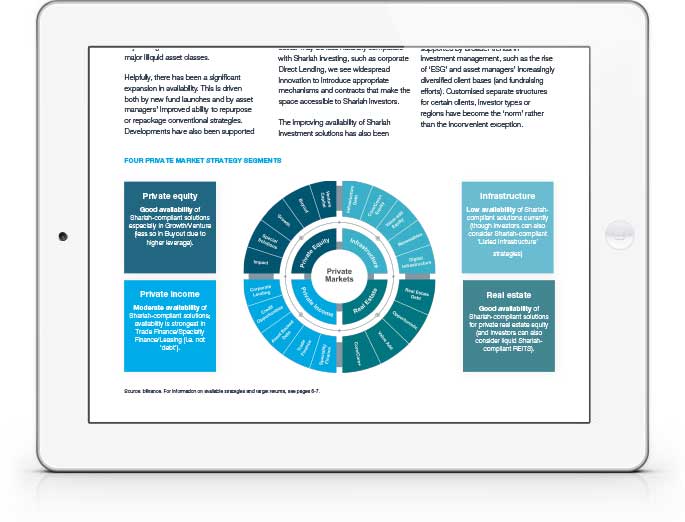 IN THIS PAPER
Types of Shariah-compliant solution: Outlining significant differences between fully Shariah-compliant funds, parallel partnerships, wrappers and exemption-based approaches, including potential advantages and drawbacks.
Availability of private market strategies: Recent years have brought a significant improvement in the number of credible strategies available to Shariah institutional investors across the main private market segments, particularly in private income where 'wrapper' approaches are increasingly prominent. Investors can gain improved visibility of the broader opportunity set, including managers that are willing to structure SMAs, use feeders or launch new Shariah-compliant solutions.
Key Shariah characteristics: Interpretations of Shariah investment tenets differ significantly, while investors have varying requirements and expectations on aspects such as leverage.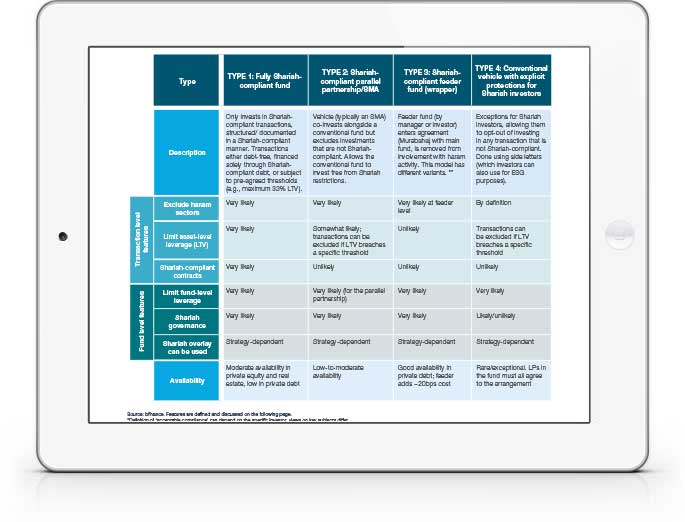 WHY DOWNLOAD?
The demand for Shariah-compliant investing in public and private markets continue to grow apace, as does the supply of strategies and solutions. Recent years have seen particular progress and innovation in the private markets space.
This concise report provides an introductory overview of Shariah-compliant private market investing and relevant strategies that investors may consider, with their potential advantages and disadvantages.
The paper is part of our educational 'Sector in Brief' series, intended to support investors that seek a rapid overview of an asset class or strategy type, with a market summary followed by investment and manager research considerations.
---
Important Notices
This commentary is for institutional investors classified as Professional Clients as per FCA handbook rules COBS 3.5R. It does not constitute investment research, a financial promotion or a recommendation of any instrument, strategy or provider. The accuracy of information obtained from third parties has not been independently verified. Opinions not guarantees: the findings and opinions expressed herein are the intellectual property of bfinance and are subject to change; they are not intended to convey any guarantees as to the future performance of the investment products, asset classes, or capital markets discussed. The value of investments can go down as well as up.
---