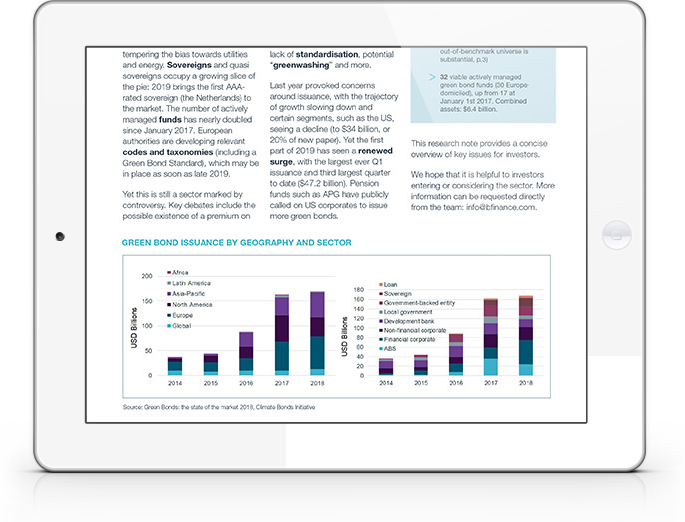 IN THIS PAPER
What's new? This sector is evolving rapidly with a resurgence in issuance, improved sector diversity, more sovereigns, new standardisation and a considerably broader range of actively managed funds.
Key debates: Is there still a "greenium"? What's the extent of the "greenwashing" problem? The arguments are complex; investors must draw their own lines in the sand.
Implementation choices. The number of actively managed funds in this space has nearly doubled since January 2017. Selection can be challenging with relatively short track records and small average fund sizes. Use of "unlabelled" green bonds is a key contributor to performance.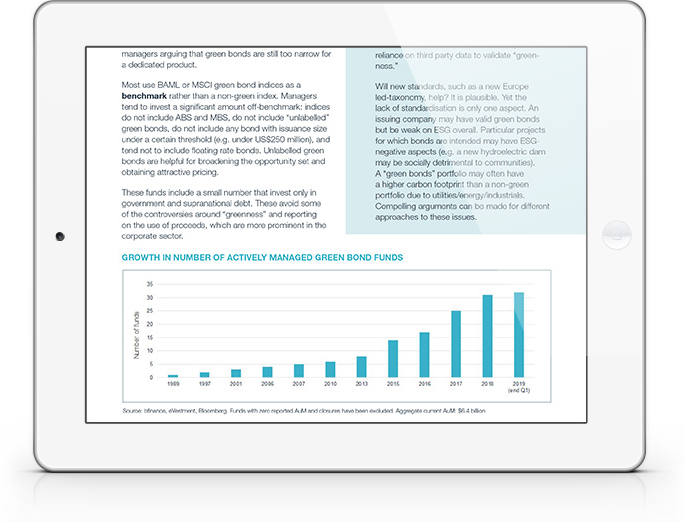 WHY DOWNLOAD?
The growth and development of the green bond market is softening many of the challenges that have traditionally been associated with the sector including small size, sector bias, uncertainty relating to standards and the much-disputed "greenium."
There is particularly marked improvement in sector and issuer diversity, as well as the availability of actively managed funds with appropriate track records.
This short research note provides a concise overview of key issues for investors.
---
Important Notices
This commentary is for institutional investors classified as Professional Clients as per FCA handbook rules COBS 3.5R. It does not constitute investment research, a financial promotion or a recommendation of any instrument, strategy or provider. The accuracy of information obtained from third parties has not been independently verified. Opinions not guarantees: the findings and opinions expressed herein are the intellectual property of bfinance and are subject to change; they are not intended to convey any guarantees as to the future performance of the investment products, asset classes, or capital markets discussed. The value of investments can go down as well as up.
---